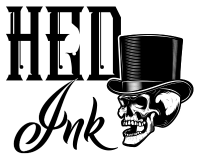 After over three years of Enlighting heads from all over the world, we are proud to announce the birth of HED Ink – our very own Tattoo Studio!
We are already open and welcome you to visit our brand new studio, located on the same spot you already know and love.
At the moment, we have the talented master tattoo artist Oskan Marley in our studio.
He masters all styles, but his speciality is custom tattoo's. Tell him what you want, and he'll make a unique tattoo designed especially for you and you alone.
For other dates and/or inquiries you can contact Hed Ink by e-mail.